Pennsville Office: (Get Directions)
48 North Broadway
Pennsville, NJ 08070
phone: 856.678.4800
Swedesboro Office: (Get Directions)
20 Village Center Drive
Swedesboro, NJ 08085
phone: 856.241.8900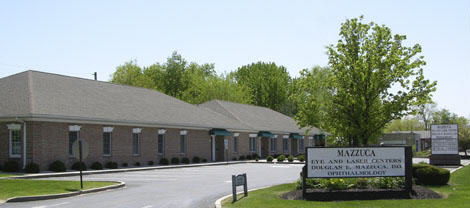 Located in Pennsville and Swedesboro, New Jersey, Mazzuca Eye & Laser Centers offers an array of services in a comfortable, relaxed atmosphere. We are committed to excellence and dedicated to meeting your medical, surgical and optical eye health needs. We deliver integrated eye care of unparalleled quality with board certified ophthalmologists, optometrists, opticians and highly-trained staff.
Our Doctors
Dr. Douglas E. Mazzuca is a board certified ophthalmologist who has been in private practice for over 26 years.  He obtained a B.S. from Villanova University and went onto Philadelphia College of Osteopathic Medicine (PCOM) receiving his medical degree (D.O).
Dr. Farnath Alber is a board certified ophthalmologist who specializes in cosmetic and reconstructive eyelid surgery. She obtained  a B.S. from Bucknell University and went onto UMDNJ-Rutgers receiving her medical degree (M.D.).
Dr. Lawrence H. Coppock, Jr. is a board certified optometrist who has been in practice for 30 years.  He obtained a B.A. from Gettysburg College and went onto the Pennsylvania College of Optometry receiving his B.S. and doctor of optometry degree (O.D.).